Product Guide
Temposonics R-Series Profinet (R-Series V)
Classification:
Product name:
Temposonics R-Series Profinet (R-Series V)
---
Shortdescription:
R-Series V Profinet
---
Technology & Profiles:
PROFINET
---
Encoder class(es):
Class 4
---
Company:

Temposonics GmbH & Co. KG
Illustration: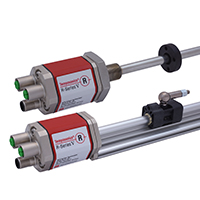 Product description:
The R-Series V from Temposonics (formerly MTS Sensors) is a linear position sensor that uses the principle of magnetostriction to measure position. With its high performance, the position sensor meets the diverse requirements of industrial applications. The R-Series V is designed for continuous operation in harsh environments with high shock and vibration resistance. The sensors are available with Profinet RT (Real Time) and IRT (Isochronous Real Time). The position and velocity for up to 30 magnets can be measured and output simultaneously. The sensor is available as a rod style RH5 for installation in a hydraulic cylinder or as a profile style RP5 for mounting on a motion axis.
With many outstanding features, the R-Series V sensors are suitable for a very broad range of applications in industrial environments.