Product Guide
smartServo BL 4000-C
Classification:
Product name:
smartServo BL 4000-C
---
Shortdescription:
smartServo - speedy, slim, smart: Single- and 3-phase-phase servo drive with Bluetooth
---
Product types:
Drives – Servo Drive
---
Technology & Profiles:
PROFINET
---
Company:

Metronix GmbH
Illustration: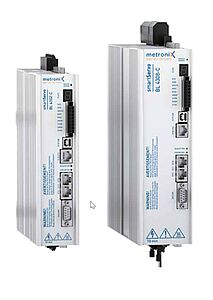 Product description:
smartServo - speedy, slim, smart
Servo drives with Bluetooth
The servo drives of the smartServo BL 4000-C series are smart AC servo drives for controlling three-phase synchronous motors, torque motors and linear motors.
The servo drives can be used in a universal manner, since they can be combined with a wide range of encoder systems and motors.
Due to their extensive parameterisation options, they can be adapted to a variety of different applications.
Servo drives of the BL 4000-C series are intended for use as devices installed in control cabinets.
The connection to a superordinate control system can be realised by way of the integrated PROFINET interface.
Some features are:
Highest performance and dynamics: internal sampling time < 32 μs
USB and Ethernet as parameterisation interfaces
Fieldbus PROFINET on board
Universal encoder evaluation: HIPERFACE®, HIPERFACE DSL®, EnDat 2.2, resolver, analogue and digital incremental encoders, BISS
Bluetooth integrated: Query of the servo drive status via smartphone or tablet PC