Product Guide
PNS-5 512 Byte
Classification:
Product name:
PNS-5 512 Byte
---
Product types:
Drives, Drives – Servo Drive
---
Technology & Profiles:
PROFINET
---
Company:

PROMICON Elektronik GmbH und Co. KG
Illustration: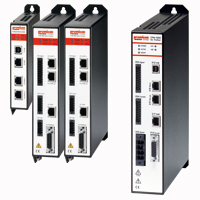 Product description:
The certified Profinet Device PNS-5 by Promicon Systems offers an easy connection to the multi-axis system Varimotion and to the intelligent single servo drive Compactmotion.
The PNS-5 has two ports for the linear or tree topology of the network bus structure.
Up to 512 Bytes in each direction can be configured to transfer digital or structured data between controller and device.
It is possible to control axis movements, digital output states and program states by the controller.
Additionally the Profinet interface supports 3 parallel TCP/IP channels for i.e. HMI, diagnostic or interaction with the programs on the system.
Furthermore a TCP/IP channel is for the real-time-debugger pWIN to implement, debug and service the axis system.