Product Guide
Liquiline System CA80xx
Classification:
Product name:
Liquiline System CA80xx
---
Shortdescription:
Analyzer
---
Technology & Profiles:
PROFINET
---
Company:

Endress+Hauser
Illustration: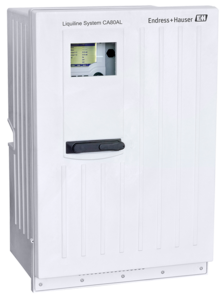 Product description:
Analyzer system for online monitoring of water and wastewater treatment
Liquiline System CA80xx offers high-precision measurement for many parameters in all critical control points. As member of the Liquiline platform, it enables plug & play and easy upgrade to a measuring station - minimizing the installation effort. Automatic calibration and cleaning as well as the low consumption of reagents save you operating and maintenance costs. Advanced diagnostics with remote access ensure process safety and support you in providing process documentation to the authorities.
Order variants
CA80AM Ammonium analyzer
CA80SI Silica analyzer
CA80FE Iron analyzer
CA80AL ALuminum analyzer
CA80HA Water hardness analyzer
CA80CR Chromate analyzer
CA80NO Nitrite analyzer
CA80PH Orthophosphate analyzer
CA80COD COD chemical oxygen demand analyzer
CA80TP Total phosphorus analyzer
Benefits
Fast commissioning and plug & play thanks to Memosens technology and user-friendly operation
Easy upgrade of functionality - even to a complete measuring station - simply by adding modules and connecting Memosens sensors
Advanced diagnostics with remote access for increased process safety
Reduced operating costs through automatic calibration and cleaning and long reagent shelf life with cooling module
Benefits
Size

Cabinet:
793 x 530 x 417 mm
31.22 x 20.87 x 16.42 inch
Stand housing:
1693 x 530 x 417 mm
66.65 x 20.87 x 16.42 inch

Design

Open design / cabinet:
Plastic ASA-PC
Stand housing:
Plastic ASA-PC, steel coated

Process temperature

4 to 40 °C (39 to 104 °F)

Ambient temperature

5 to 40 °C (41 to 104 °F)

Outdoor version: - 20 to 40 °C (-4 to 104 °F)

Process pressure

Unpressurized

Sample flow rate

Min. 5 ml/min (0.17 fl.oz/min)

Consistency of the sample

Low solids content

Specials

Easy upgrade to measuring station with up to four digital Memosens sensors
Automatic calibration and cleaning
User-configurable measuring, cleaning and calibration intervals
Optional cooling module for longer reagent life time
Automatic calibration and cleaning
Optional 2 channel version
User-definable measuring ranges
Flexibale functionality and modular expandable
Digital communication for remote access

Application, depending of measuring parameter

Monitoring and optimization of the cleaning capacity of municipal and industrial wastewater treatment plants
Monitoring of the wastewater treatment plant outlet for documentation purposes
Monitoring and optimization of activated sludge basins

Power supply

100 to 120 VAC / 200 to 240 VAC ± 10%
24 VDC ± 10%
50 ± 1 or 60 ± 1.2 Hz

Output / communication

2x 0/4 to 20 mA
Optional: PROFINET, Webserver, Modbus, Ethernet/IP, Profibus DP

Input

1 or 2 measuring channels
Optinonal 1 to 4 digital Memosens sensor inputs