Product Guide
KeDrive D3
Classification:
Order number:
KeDrive D3-DA3x0
---
Shortdescription:
Multiaxis Servodrive System
---
Product types:
Drives, Drives – Servo Drive
---
Technology & Profiles:
PROFINET, PROFIsafe, PROFIdrive
---
Application class(es):
Frequency Converter (AC1), Servo Drive (AC4)
---
Company:

KEBA Industrial Automation Germany GmbH
Illustration: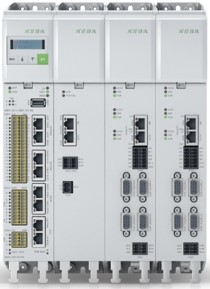 Product description:
The safe multi-axis system includes all components of an automation and drive system.
The great advantage of the system is the modular composition of the D3-DP supply unit and the D3-DA axis controllers in a scalable system.
The axis controllers are available as single-axis, double-axis and triple-axis controllers in a power range from 1.5 A to 250 A for optimal system design.
Proven encoder technologies such as resolver, sine/cosine, HIPERFACE or EnDAT are supported as well as the latest single-cable solutions.
The axis controllers are equipped with a scalable safety option:
From STO according to PLe (Cat. 4) or SIL3 or single-axis monitoring to cross-axis motion monitoring, everything is possible.
Furthermore, an all-in-one control system can be integrated in the form factor of the drive technology with optional safety technology. The D3-DU control for PLC, motion, robotics and CNC is highly efficient and maximally flexible.