Product Guide
Fire Resistant Foundation Fieldbus H1 - 50076LS
Classification:
Product name:
Fire Resistant Foundation Fieldbus H1 - 50076LS
---
Shortdescription:
1PR X 18AWG MGT/XLPE/OS/LSZH/SWA/LSZH
---
Product types:
Cables/Connectors
---
Technology & Profiles:
PROFIBUS
---
Company: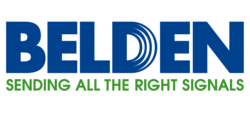 Belden Hirschmann Industries (Suzhou) Ltd.
Illustration:
Product description:
Construction:
Design: 1 Pair 18 AWG
Conductor: Stranded Tinned Copper
Fire Protection Barrier : Mica Glass Tape (MGT) 100% coverage
Insulation: XLPE (Electron ‐ Beam Cross linked PE)
Shielding: Overall Beldfoil® Aluminium Foil ‐ Polyester Tape with 100 % Coverage
Outer Jacket: Low Smoke Zero Halogen/Low Fire Hazard
Armour : Galvanized steel wire armour (GSWA)
Minimum Bend Radius : 12 X OD
EU RoHS compliance: Yes
Mechanical Properties:
Flame Retardancy: IEC 60332‐3‐22 Category A IEC 60332‐1‐2
Operating temperature: -40°C To +90°C
Fire Resistance / Circuit Integrity : IEC 60331‐23 (750°C for 90 minutes)
Oil Resistance : ICEA S 73‐532 IRM 902
UV / Sun Light Resistance: UL 1581
Light transmittance property as per IEC 61034-2
Electrical Properties as per IEC 61158-2 Type-A, FF-844:
Voltage Rating: 300 V
Impedance (31.25 KHz): 100 ± 20 Ohms
Attenuation (39 KHz): <= 3 dB/KM
Mutual Capacitance @ 1KHz ≤ 80 pF/m
Max. Propagation Delay Change (7.812 ~ 39.06) KHz : 1.7 μS/KM
Target Application:
Foundation Fieldbus is the dominant industrial network in the oil,gas and petrochemical industries as well as most process industries. Fieldbus is an all-digital,serial,two way communications protocol that standardizes the interconnection of field devices at a communications rate of 31.25 kB/s. The Field devices are accessible communication netowrks(running at 1 or 2.5Mb/s), through linking devices. These cables have electron beam(E-Beam) XLPE insulation that offers lower capacitance, longer run lengths and improved cut through and chemical resistance compared to other insulations. These cables are fire resistant as per IEC-60331-23 for 750 deg C for 90 minutes. Type A, H1 registered cable.
Flammability, LS0H, Toxicity Testing:
Smoke Density ASTM D2843 : Max. 40%
Halogen Acid Gas IEC 60754‐1 : Max. 0.5%
Toxicity Index EN 50305 / NF F63‐305 (ITC)< 5
pH & conductivity as per IEC 60754-2
Reference Standards:
• IEC 60092‐376, EN 50288‐7, IEC 61158‐2, FF 844, IEC 60331‐23, BS 6387
• BS EN 50290‐2‐29, BS EN 50290‐2‐27, IEC 60092‐359, UL 1581, ASTM D 2843, EN 50305, NF F63‐305
• IEC 60332‐1‐2, IEC 60332‐3C, IEC 60332‐3A, IEC 60754‐1, IEC 60754‐2, IEC 61034‐2, ICEA S 73‐532