Product Guide
DK850 Digital Weight Indicator / Controller
Classification:
Product name:
DK850 Digital Weight Indicator / Controller
---
Shortdescription:
Weight Indicator, controlling weighing and dosing processes
---
Product types:
Remote I/O, other PROFINET Device, other Field Device
---
Technology & Profiles:
PROFIBUS, PROFINET
---
Company:

MESOMATIC GmbH & Co.KG
Illustration: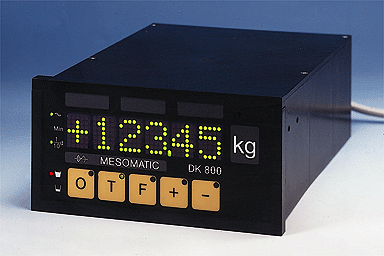 Product description:
The DK850 is a practical indicator and evaluator for controlling weighing and dosing processes and has the EU approval as officially calibrated scale, classes III and IV. High resolution, fast conversion, digital filtering and high stability, deliver excellent weighing results, even with high preloads. Via the integrated alphanumerical display and its menu control it is easy to calibrate. As a front-end-instrument for the PLC it provides a maximum of 6 load cells, shows the actual weight on the display and transmits the data to the PLC as a high speed PROFIBUS DP-slave (12MB/s). The PLC can also load setpoint data and other parameters into the DK850, which then controls the dosing process independently with PLC compatible I/O-signals. Many options and special versions incl. accessories are available.