Product Guide
ARS 2000 FS
Classification:
Product name:
ARS 2000 FS
---
Product types:
Drives, Drives – Servo Drive
---
Technology & Profiles:
PROFINET
---
Company:

Metronix GmbH
Illustration: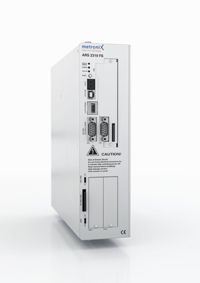 Product description:
The ARS 2000 is consequently designed for scalability – scalability is the DNA of the ARS 2000.
Simple applications and tasks require only the cost-effective basic version. The higher the requirements, the more a high-end servo drive can be configured from a basic version.
Available technology functions are adjusted and retrieved via the newest setup software "Metronix ServoCommander®" with integrated real-time oscilloscope. The various "connectivity variants" of the ARS 2000 series allow the support of different fieldbus systems and multi-feedback systems of different motor manufacturers. Via special technology modules the increasing requirements of the current machinery directive are supported, too. This scalability is a big advantage for your complex applications. You only pay for the functionality you need.
The Ethernet-based fieldbus system PROFINET is available to the user as a plug-in module. Based on PROFIdrive the Metronix-specific application profile enables easy access to all functions of the servo drive. Ready-made function blocks and a sample project make the integration of the ARS 2000 into the control system a real piece of cake. Further, the plain text display of error messages in the control system simplifies the first set up significantly so that the machine is ready for use more quickly.