Product Guide
ADIO-MA08AP-ILM
Classification:
Product name:
ADIO-MA08AP-ILM
---
Shortdescription:
Remote I/O Boxes
---
Product types:
Cables/Connectors, Remote I/O
---
Technology & Profiles:
PROFINET
---
Company:

Autonics Corporation
Illustration: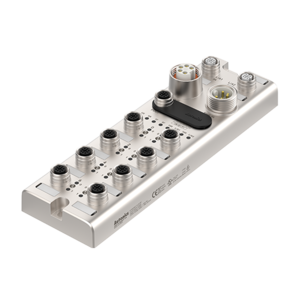 Product description:
1. Introduction
The ADIO series remote I/O boxes transmit various input and output signals between master devices such as PCs or PLCs and secondary devices including sensors and actuators. The IO-Link master type ADIO-ILD can exchange signals from secondary devices (IO-Link, standard I/O) to industrial networking protocols (EtherCAT, EtherNET/IP, PROFINET). The devices also offer enhanced durability with IP67 and IP69K protection rating.
2. Detailed Features
- Upper level communication protocol: EtherCAT, EtherNet/IP, PROFINET
- Lower level communication protocol: IO-Link ver. 1.1 (port class: Class A)
- Housing material: Zinc die casting
- Protection rating: IP67, IP69K (EtherCAT communication type model)
- Daisy chain connection (network communication and power supply)
- Maximum output current per port: 2 A
- I/O port setting and status monitoring (cable short / disconnection, connection status, etc.)
3. Description
- IO-Link Master Type Remote I/O Boxes
ADIO series can be used to exchange the sub-device signals including IO-Link communication and standard I/O to EtherCAT, EtherNet/IP and PROFINET communication.
- Convenient Wiring with Daisy Chain Structure
Power supply and network communication can be connected in daisy chain method, for easier maintenance and wiring.
- Zinc Die-cast Housing and IP67, IP69K Protection Rating
Zinc die-cast external housing provides excellent immunity to impact and IP67, IP69K protection structure allows stable and error-free operation even in wet or dusty environments.
- Dedicated Software atIOLink Provided
atIOLink is a comprehensive IO-Link management software which allows users to easily set up, diagnose, and manage IO-Link devices through PCs without connecting to PLCs.