Product Guide
SIMOCODE pro V PB (DM-F PROFIsafe)
Classification:
Product name:
SIMOCODE pro V PB (DM-F PROFIsafe)
---
Order number:
3UF7330-1AB00-0, 3UF7330-1AU00-0
---
Shortdescription:
Fail-safe digital module for the SIMOCODE pro V system with SIL3 / PL e certification. (3UF733)
---
Product types:
Switching Devices
---
Technology & Profiles:
PROFIBUS, PROFIsafe
---
Company:

Siemens AG
Illustration: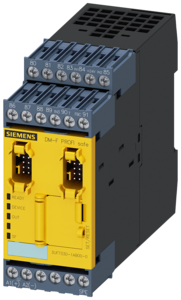 Product description:
SIMOCODE pro is the flexible and modular motor management and control system for low-voltage motors.
SIMOCODE pro provides comprehensive protection, monitoring, and control functions.
Enjoy the benefits of detailed operating, servicing, and diagnostics data – also for fail-safe disconnection of motors.
It can easily and directly be connected to automation systems via PROFIBUS, PROFINET / PROFIsafe, Modbus RTU, and Ethernet IP.
Integrated OPC UA communication lets you take advantage of the cloud.
---
Safety technology for SIMOCODE pro
The safe disconnection of motors in the process industry is becoming increasingly important as the result of new and revised standards and requirements in the safety technology field.
With the DM-F Local and DM-F PROFIsafe fail-safe expansion modules it is easy to integrate functions for fail-safe disconnection into the SIMOCODE pro V motor management system while retaining service-proven concepts. The strict separation of safety functions and operational functions proves particularly advantageous for planning, configuring and construction.